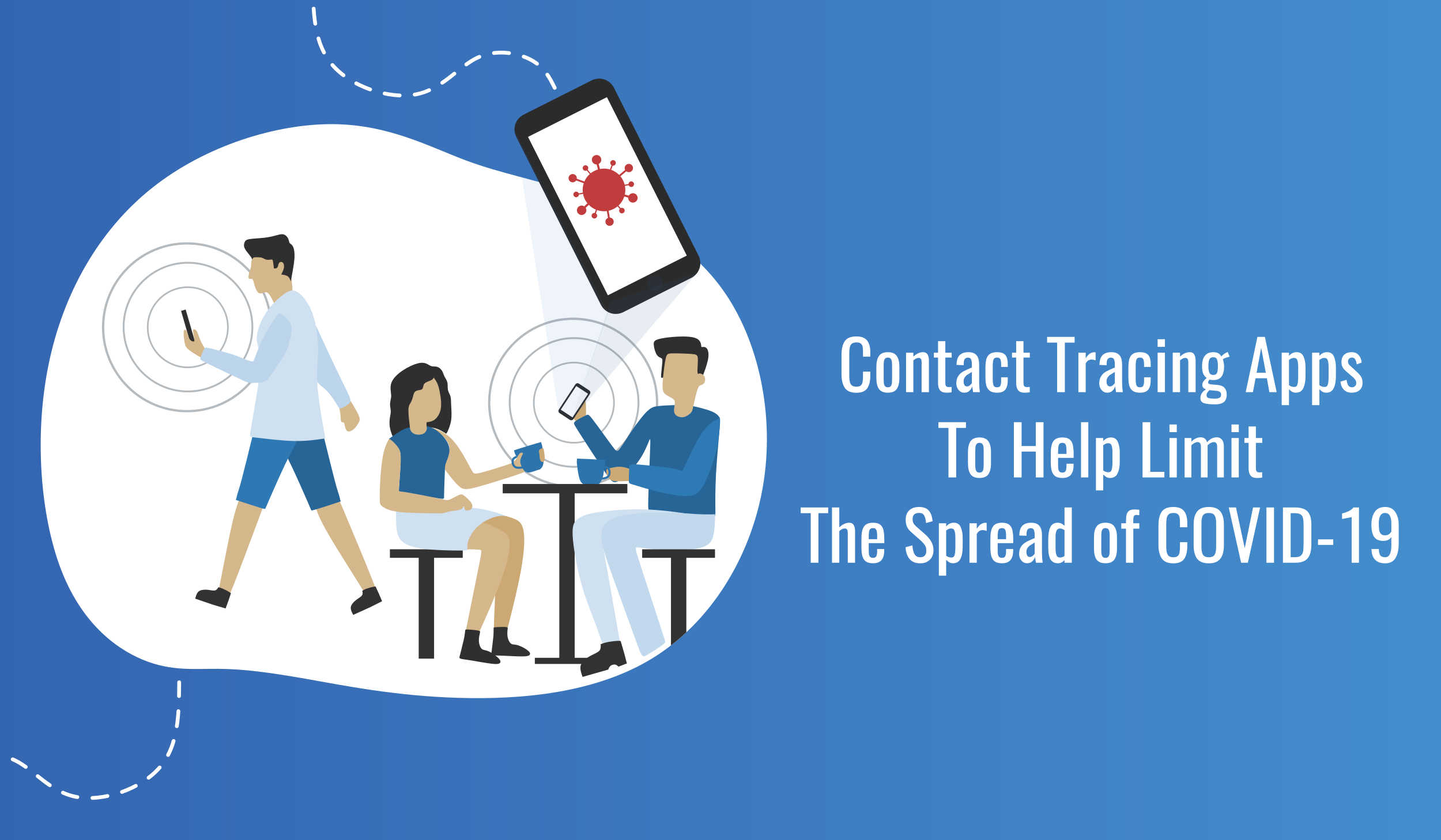 As COVID-19 staggeringly lands blows to nations across the world, governments are considering ways to see their citizens through this pandemic. At the moment, a WHO situation report clocks the number of confirmed cases above two million along with more than one hundred thousand deaths. With vaccines dubbed as the best possible chance to tackle COVID-19 having no precise time frame of being ready, the talk is quickly shifting away to Contact Tracing Applications.
Contact tracing apps are digital solutions that use mobile technology to power the process of manual contact tracing. The apps follow a user's movement, either by the use of Bluetooth technology, QR codes, or geo-location data while also tracking and keeping data from other user phones nearby. If one user gets diagnosed, the apps alert other users that they may have been exposed to the virus. As such, Contact Tracing Applications are being welcomed and perceived as an important approach to stem the spread of COVID-19 by providing a more accurate platform with data and information about affected individuals.
How Contact Tracing App Works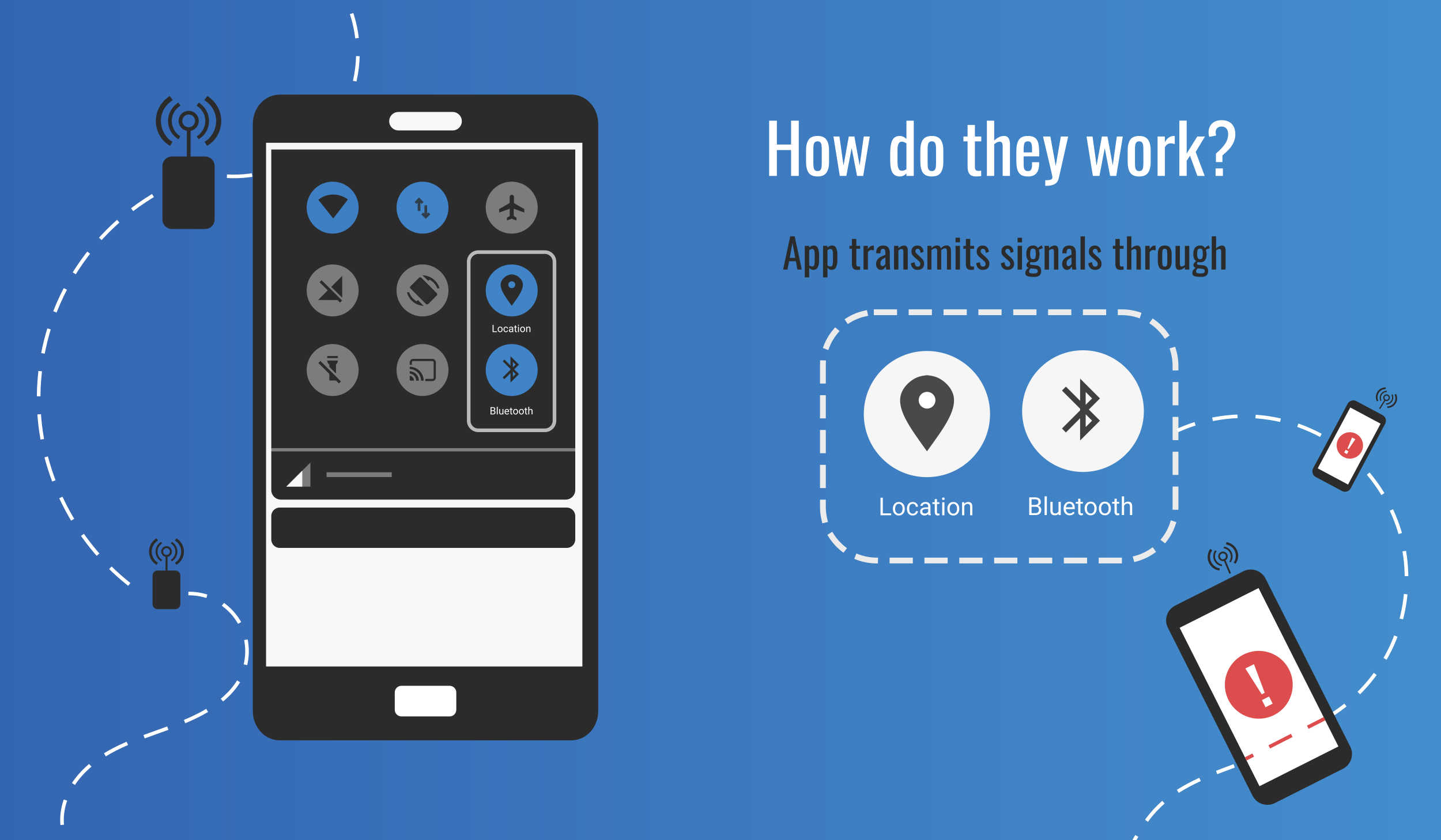 As mentioned above, contact tracing apps leverage mobile technology to trace cases of possible infection more accurately. But how exactly? Once installed and operative, the phone runs the app simultaneously with Bluetooth or location data to transmit signals with unique keys or IDs to phones in the designated range of connection. Similarly, the other phones with the app installed to detect and send back the signals.
For instance, if 'Individual A' has the app installed and goes outdoors to run some errands, they will interact with other individuals. In such a case, supposing all the other individuals had functional Contact Tracing Apps, each phone would exchange and store the contact data anonymously. It is important to note that the data collected only covers the app range distance to disregard irrelevant contacts and that their keys repeatedly change as individuals move. In any event that  'Individual A' tests positive for COVID-19 through confirmed tests,  users who were previously within the proximity of 'Individual A' are alerted. Consequently, they are notified to check for symptoms, self-isolate, or get tested. Each time a person tests positive, the app notifies and advises the affected individuals.
In a nutshell, Contact Tracing Apps automate and supplement the traditional concept of tracing contacts to achieve extensive and realistic results in the least time possible.
What are the Benefits of Contact Tracing Apps?
Contract Tracing Apps are assets that offer indispensable solutions to health institutions and the public against COVID-19. There are several reasons why many governments are urging their citizens to use digital contact tracing apps to combat the spread of COVID-19. They include:
The apps are more effective than manual tracing. While not perfect, their predictive algorithms frequently observe individuals detect new cases and analyze the probability one was infected. If one has contact with an asymptomatic individual, they are immediately notified and advised accordingly. Therefore, this saves time, energy, and resources that would have otherwise been overused.

Contact tracing apps facilitate the relaxation of imposed restrictions or lockdowns. With a large number of infected people identified by the apps and put under surveillance, healthy citizens can be allowed to go about their duties. This may be a significant turning point to try and revive economies.

Users' private data is encrypted and secured. Even if you test positive, other users will only get notifications of possible infections. Your information is protected from both other users and developers of the app.

They will increase the capacity to test and detect COVID-19 cases. With infected users alert, users who come in contact with affected persons come forward to be tested and treated with a higher recovery chance. 
Future of Contact Tracing Apps?
Currently, the role of contact tracing apps is limited to accurately identifying infected individuals and their contacts as well as facilitating a quicker response to the Covid-19 threat. 
Beyond that, the use of contact tracing apps is projected to take a different turn. One key area bound to change is how people's privacy is handled. Tech institutions are under growing pressure to devise ways to develop privacy-preserving Contact Tracing Apps. 
This will earn the users-trust, which is a pillar for these apps to help contain the disease. Technically, the technology will also have to improve drastically. The apps will have to seamlessly integrate with the user's phone lifestyle causing minimal or no interference. With most applications having an open-source code, Artificial Intelligence, Beacon Technology, and Big Data solutions will be increasingly harnessed to power and improve them. The apps may also cut across various types of industries apart from health institutions.
How Can It Help to Trace COVID-19 and Reduce the Spread of the Virus?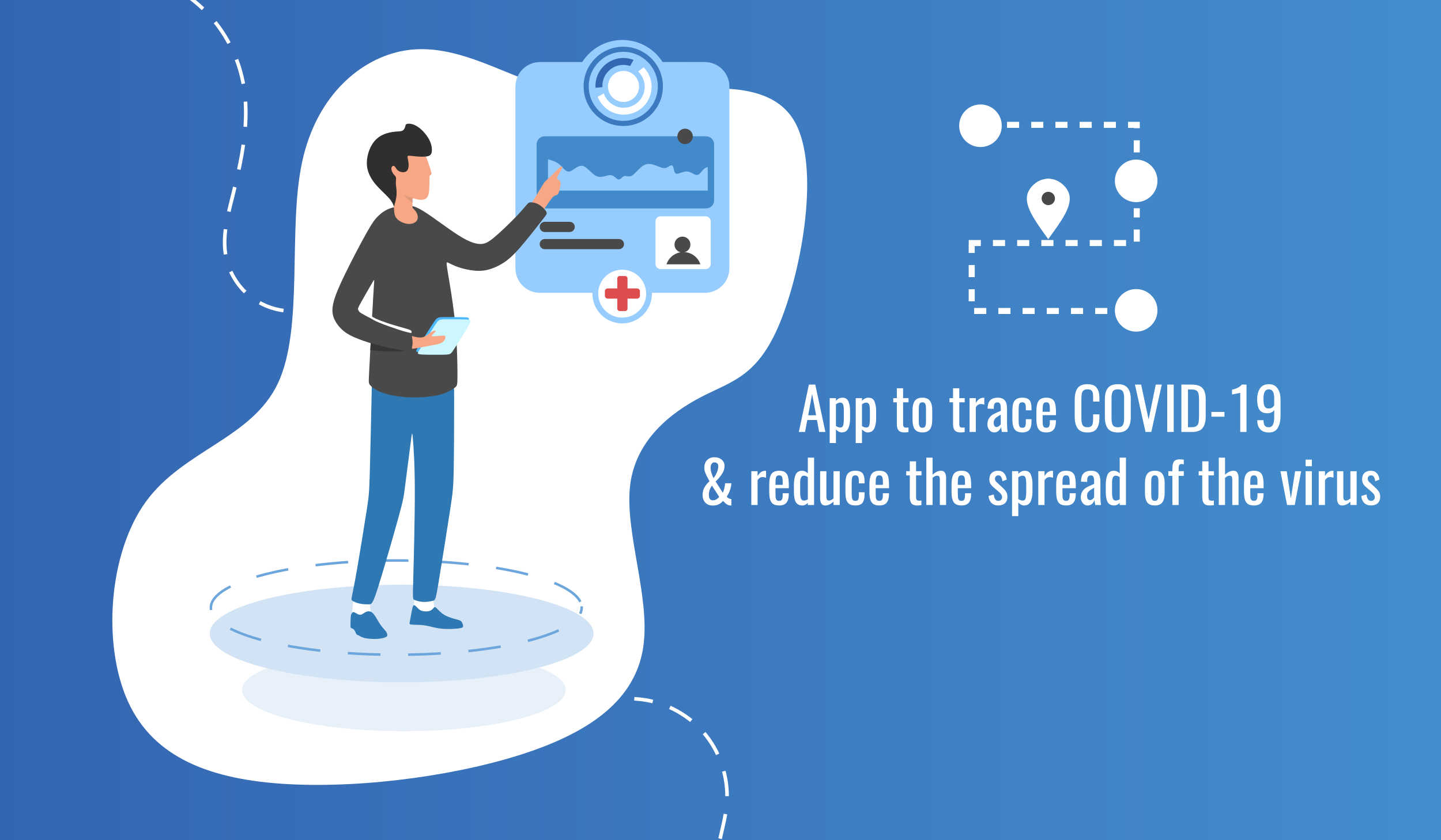 Contact Tracing Apps will effectively help stem lowering the cases of COVID-19. By using the apps, officials are able to monitor high-risk individuals easily. Also, should any new case arise, both users and health officials get notified they will swiftly act to trace, test, or isolate infected individuals. 
Unlike traditional contact tracing, which may not get all contacts, these apps ensure that once Covid-19 cases are detected, they are all treated early, and those other individuals are not exposed to the infection. They also ward off users from high-risk areas. In the long run, they help break the COVID-19 chain by preventing further spread. Illustratively, an online publication by  CNBC states that more than 500,000 using a Singapore-registered mobile number downloaded the TraceTogether app within the first 24 hours of its launch. Subsequently, together with other government efforts, Singapore has since lowered the infection rate and eased restrictions.
If Contact Tracing Apps are implemented and used alongside other policies, we may as well be a few steps way to curbing this virus.
Considering Privacy and Safety
Along with drawing some praise, Contact Tracing Apps have also had their fair share of criticism. The biggest yet has been privacy protection, which presents an obstacle for the public reception of Contact Tracing Apps. An in-depth review of the apps' functionality reveals various loopholes that can be negatively exploited. Most apps, however, don't breach your privacy details. That said, let's look at some facts surrounding the issue of privacy. 
For starters, downloading and using the app is not compulsory and users can opt-in and out anytime.

The data collected is encrypted and anonymized. Users cannot access other users' information. Each user is located with anonymous IDs or keys that don't include any recognizable information. The keys also frequently change as they move.

All proximity and duration data collected by a user's phones remain on their phone and in some apps or a safe and centralized server system such as in Apple's and Google's case.

The apps retain this data for around 21 days or more, after which earlier records are erased, and the latest data added.

Data analyzation and processing happens on the user's phone and is not shared with foreign or third-parties. However, in some countries, especially with geolocation-based apps, authorities may access this information.

Data of individuals identified with COVID-19 is only retrieved with the consent of the user.
Governments and various NGOs have also laid out guidelines to be followed by developers to protect user privacy. As the ACLU puts it, there is a need for sober consideration of the risks and tradeoffs of contracts when developing Contact Tracing Apps so that it protects not only the fundamental right to health but also our rights of privacy and free association.
Why is it a Big Thing Now?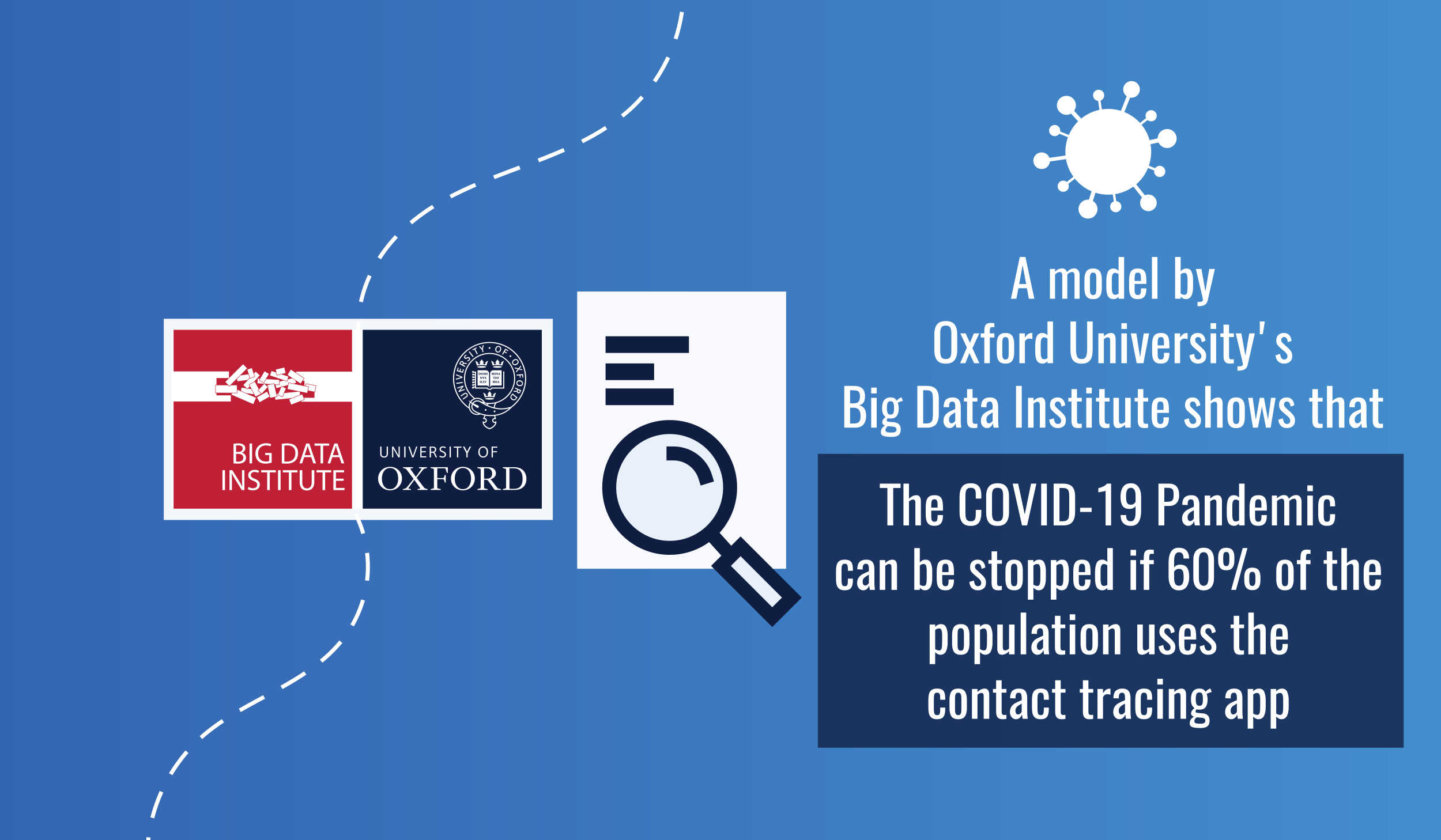 So far the talk about contact tracing apps has reached far and wide. Many now know or have a slight idea about them. But why the sudden hype? Well, let's take a look!
Contact Tracing Apps are regarded as an essential strategy of flattening the C0VID-19 curve now that a vaccine is several months or years away. A model by The University of Oxford's Big Data Institute shows that we can stop the COVID-19 epidemic if approximately 60% of the whole population uses the app and adhere to the app's recommendations. The modeling goes to show the tremendous potential these apps have. 
By automating the contact process digitally, there is a broad scope for possibly getting the most reported cases in apps timely. Then, officials can reliably find as many people as possible who might be infected and are actual carriers of the COVID-19 to derail further spread. If realized, both the potential of these apps, alongside human-fronted efforts, can yield impactful results in the fight against the COVID-19 epidemic. Such efforts might then gradually restore normality to the world as the disease is controlled.
Contact Tracing Apps vs. Location Tracking Apps: What's the Difference?
While similar in szveral ways, the functionality of both apps sets them apart. For one, Contact Tracing Apps help in health surveillance. They automatically notify users of probable close contact with persons who are diagnosed with COVID-19, after which relevant measures should be taken. Now, with some Contact Tracing Apps using geo-location data, one may be confused and have some questions. While they also monitor and make use of a user's location data, this data is used to provide comprehensive and accurate information about people's movements in defined locations to health authorities. Therefore, health measures can be taken to screen patients, isolate, or provide medical assistance.
Contrarily, Location Tracking Apps are more business and service-oriented. They determine and report a user's approximate location. This data is then used in many ways, such as personalized marketing services, fleet management, supply chain management, and to monitor assets while preventing any losses. Similarly, they also give directions so that users move around in real-time.
Tech Details of How a Contact Tracing App Works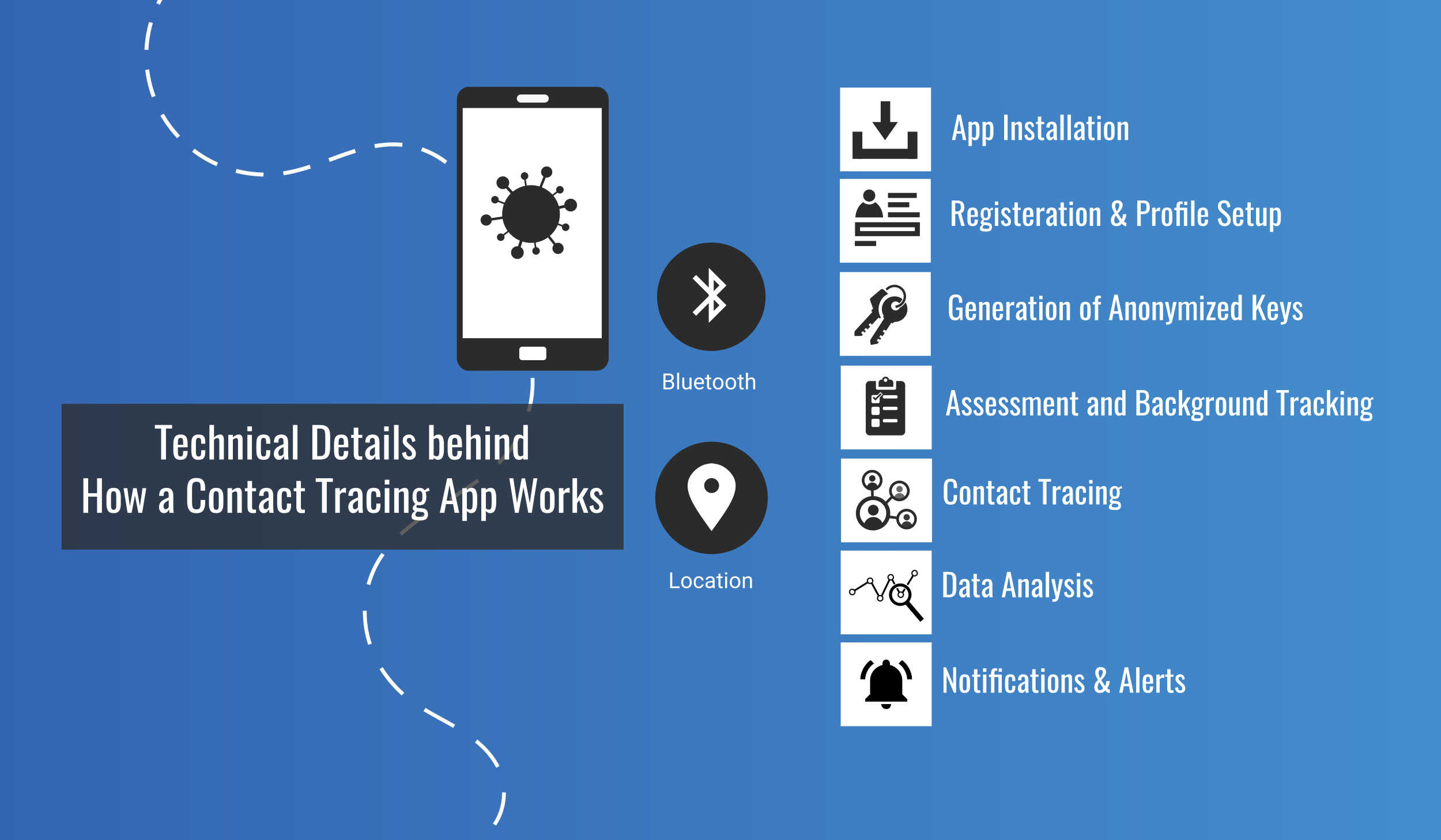 By this point, we can all agree that a smartphone is needed for contact tracing apps to function correctly. Like most apps, contact tracing apps come in one too many forms. This means that they work with a common agenda, which is to use different frameworks. There are two primary ways through which contact tracing apps can be developed. 
Bluetooth-based Contact Tracing apps
Based on Bluetooth technology, these applications specifically use Bluetooth Low Energy (BLE ), wireless radio waves, or signals to trace contacts.
App download, registration, and profile set up
Upon installation, users register with their phone number, whereas the app generates a unique, randomized User ID and links it with the user's mobile number. Mobile numbers are the only sensitive and personal data required by the user. The mobile numbers can be used to reach and communicate with users found to be overexposed to an infected person. Apps that don't ask for personal information, including email or phone, are conceivable and may use push notification tokens to alert users.
Generation of temporary anonymized keys
Users are assigned temporary IDs or keys. Temporary keys log user encounters during interactions. All personal details are confidential, with only the temporary IDs and movement data exchanged. Each Temporary key contains a User ID, creation time, and expiry time, all of which are encrypted.
Temporary keys also change frequently, depending on user movements. This helps to lessen the effect of replay attacks by reducing loopholes that are prone to exploitation.
Assessment and background tracking 
The mobile phones follow the user's progress using Bluetooth sensors and records and update the user data. Mobile gadgets of other users running the app also broadcast signals regularly to share and transfer data based on a user's proximity to other users and duration of contact.
Each app anonymously collects, analyzes, and sends the interaction data to a centralized server or the user's phone, where it is briefly stored for about 21 days. The data is also encrypted to conceal every user's identity.
Contact tracing
In any event that one user tests positive for COVID-19 through confirmed tests, health officials ask if they have the app installed. If they do, health officials provide a code that is entered in the app. The code prompts the user to obtain a valid token that logs the new data and triggers an upload to the servers via their anonymous key. 
Data analysis 
Through the users' consent, health officials access the data and decrypt the temporary key for each encounter uploaded in their interaction history, to obtain the UserID and validity period. They then confirm that the encounter duration for each Temporary key falls within its validity period and proceed check for close contacts based on these parameters: 
Time of exposure (measured by the length of a continuous collection of encounters) 

Distance (measured by the received signal strength reading)
Notifications and Alerts
Notifications and alerts provide updates and guidelines to users based on the probability of exposure to the virus, and the factors mentioned above. They also advise users on high-risk areas so that if users may have visited those areas, they can take relevant measures or seek medical assistance.
With constant data uploads and downloads in the app, users who were previously within the proximity of the positive user are alerted. Consequently, they are notified to check for symptoms, self-isolate, or get tested. Each time a person tests positive, the app notifies and advises the affected individuals.
Geo-location (GPS) Contact Tracing apps
Unlike their counterparts that make use of location tracking technology, Geo-location contact tracing apps make use of a user's phone GPS function and its connection to cell-tower signals or Wi-Fi signals to identify their physical locations.
Once installed, each user is required to register and activate their GPS function. The app then tracks and sends the users identity and location data directly to a server accessible by the authorities.
The user's location data is used to determine whether the users, either individually or collectively, are following set orders to contain COVID-19. What's more, if one user tests positive, the test result prompts an immediate notification to individuals who were in close contact with the victim. The victim's interaction data is then used to trace contacts via GPS co-localization with other app users, also enhanced by scanning QR codes displayed on high-traffic public facilities where GPS is available. The app also advises the isolation for the case and quarantine of their contacts.
What Are Some Examples of Contact Tracing Apps?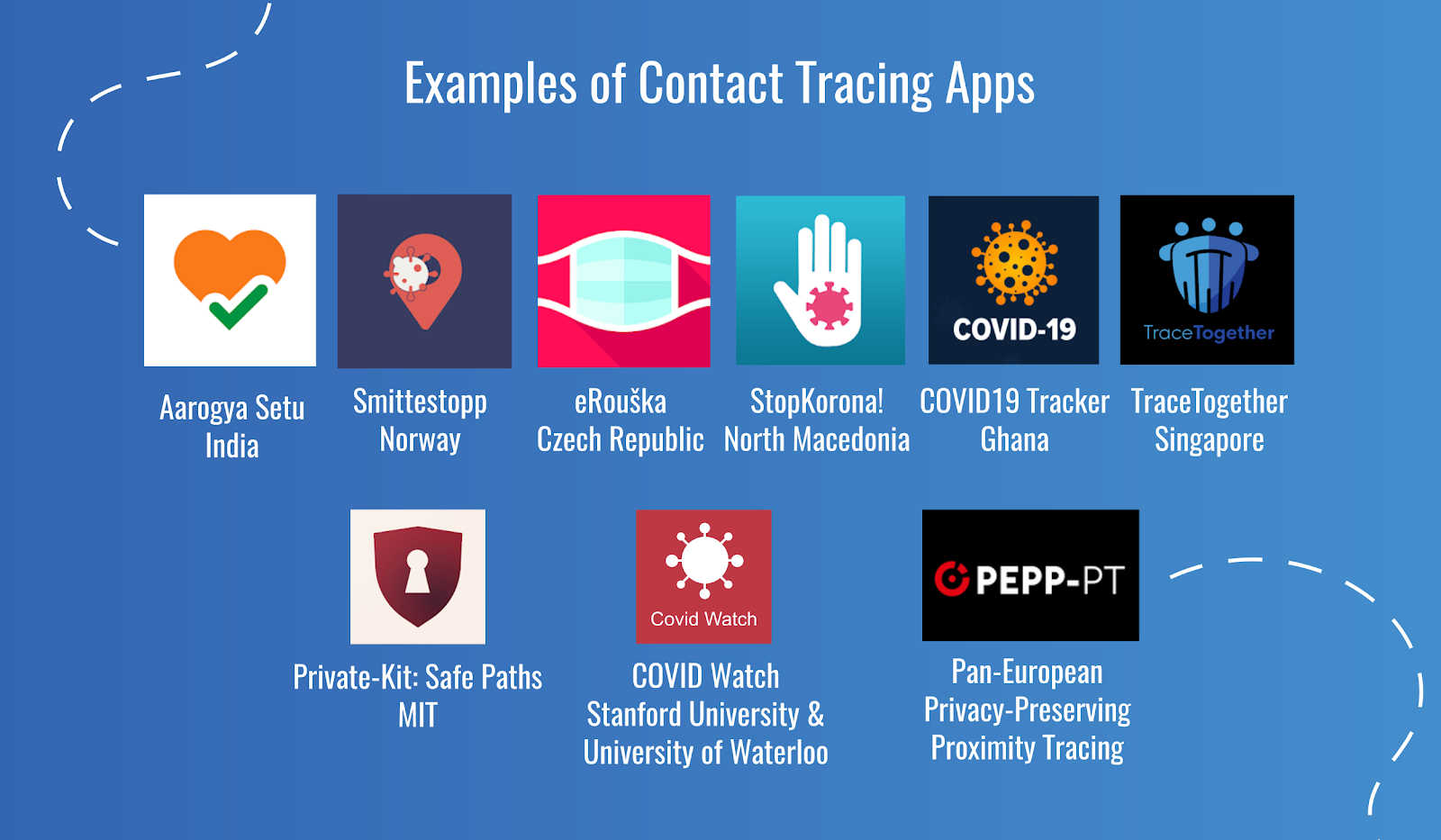 At the time of writing this piece, only a few official Contact Tracing Apps are active. By far, TraceTogether, a Singapore-developed app, is the most famous and has acted as a benchmark for other apps. Other apps include Norway's Smittestopp app developed by the Norwegian government that uses both Bluetooth and GPS signals, which uses geo-location data and The Czech Republic's eRouška (eFacemask) inspired by Singapore's TraceTogether. Elsewhere, North Macedonia has StopKorona! App developed by the Macedonian IT company while Ghana has recently launched GH COVID-19 Tracker App, an Android and IOS platform app equipped with location-tracking technology.
Many other contact tracing apps are in the phase of development, testing, approval, or about to launch. They include the MIT-led PrivateKit: Safe Paths, COVID Watch by Stanford University and the University of Waterloo, and the Pan-European Privacy-Preserving Proximity Tracing (PEPP-PT) app project. The Indian and UK governments are also working on similar apps. Interestingly, Apple and Google have also paired up to develop an app that will be rolled out into three phases.
Cost to Develop a Contact Tracing App?
With each app using different platforms and frameworks, the price of fully developing remains relative across the board. The cost of producing one is estimated at roughly $30,000, depending on the features, technology used, and functionality.
Conclusion
Contact tracing apps are expected to play a significant role in flattening the COVID-19 curve. The benefits offered by these apps are incredible and might be just the lifeline we need to return to normalcy. Regardless of the false information and privacy issues surrounding these apps, this is a health issue that requires cooperation. For the apps to be successful, every one of us must take responsibility and support these apps by using them.
In a search for web or mobile app development? Contact us at hello@devathon.com or visit our website Devathon to find out how we can breathe life into your vision with beautiful designs, quality development, and continuous testing.