Mobile App Push Notifications: A 2021 guide for Startup Founders & Product Managers
Believing that 2021 will be a great start for the businesses who faced challenges due to the COVID pandemic. Most e-commerce stores and businesses are planning to improve their customer retention and drive more sales by strategically using push notifications.
With too many successful companies in the global marketplace, gaining trust and attention from users as well as generating sales is becoming increasingly difficult for many Startup Founders & Product Managers. With the help of mobile app push notifications, it does not come as any surprise that company owners are now spending resources to give the dust in their niches to major competitors.
Localytics Data Team shows some push notification facts and statistics from which we collected some figures and present them in an infographic to illustrate the possibilities of this new channel of communication.
Facts and Statistics about Push Notifications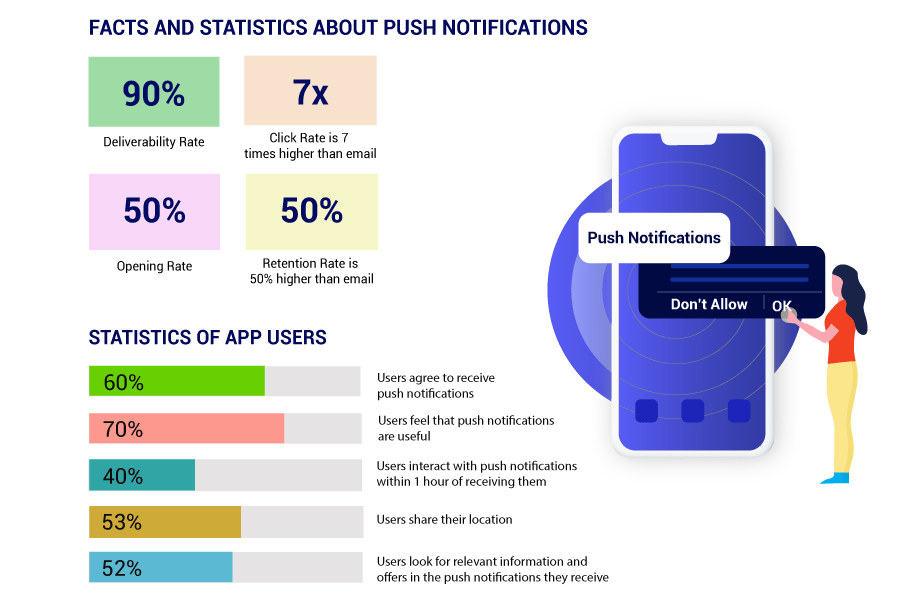 It eventually turns out that, at almost all stages of the customer's journey, mobile app push notifications can be useful.
What are Mobile App Push Notifications?
If you ever want to know what are push notifications. Push notification, however, is a message that appears on a cell phone screen – a simple message that is successfully delivered to a mobile phone from a software application without user requests.
In other words, push notifications are server notifications and are linked to specific apps and may appear on cellphone screens even when the phone is in sleep mode.
Types of Mobile App Push Notifications
There are quite a wide variety of types of push notifications that address various uses and needs. Typical standard push notification sent to the device of a user. Nevertheless, geolocation-based notifications allow the app to access the location setting of the user; IT, marketers, and developers can actually send notifications based on that information.
The Yelp mobile app, for example, notifies users in their area about new restaurants. Developers, marketers, and IT, etc. may also try to schedule repeated push notifications based on a particular industry need.
For example, a retail business with a special weekly discount might also want to send a notification for advertising the deal to its user base.
Below are different types of Mobile App Push Notifications

Geolocation Push Notifications
When entering or leaving a location, an app can send subscribers a simple push notification. For example, this type of notification is useful for sending date match notifications, finding nearby shops, building food and drinks, etc.

Re-Engagement Push Notifications
These notifications are intended to motivate users. For instance, if users conduct certain activities with an app to improve their lives somehow, they can be congratulated on their progress by the app. A fitness app can send out a message to a user like "Congratulations! Today you have been running 10 kilometres!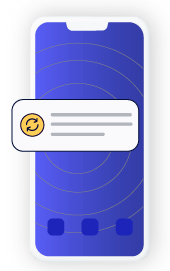 Update Push Notifications
These notifications inform app users about significant updates to an app and recommend installing the new version or checking out a new or much-improved feature.


Reminder Notifications
An app sends reminders based on user feedback and external source data, so users don't miss things they need to do. For example, if someone has a meeting, a local traffic data app can be used to alert them when they should leave the house to be there on time.

Promotional Push Notifications
Promotional notifications tell users of exclusive deals, gifts, or sales. And this encourages users to make purchases through promotional notifications. For instance, the Kayak travel app allows users to set up notifications for vacation deals based on dates. Then they'll receive notifications when the price drops to a point they set for these dates or destinations. These type of notifications encourages users to take the desired action.


Survey/Rating Push Notifications
Rating or survey push notifications are the perfect way to collect feedback from users and start improving customer experience. Approximately 60% of the respondents typically or always check ratings before downloading the app, according to Apptentive survey. These type of Push notifications, for example, may require users to grade the app itself or rate activity in the app like placing an order.

Recurrent push notifications
At a specific date and time, Recurrent push notifications will be sent to users only once. For example, regular push notifications can be sent to highlight editorial picks on a monthly or weekly basis.
Musx, for instance, sends notifications every weekend for the top ten songs.
Trivia push notifications
The idea of trivia notifications would be to use funny, entertaining messages to send some love to users. These are imaginative notifications that aren't intrusive. Most often, (e.g.), news apps send notifications repeating the headline of the article. But to be unique and notable is the goal of push notifications. This notification provides an informative, lighthearted message that continues to convey its point.

Order push notifications
Orders Push notifications are also a way for users to add value. These notifications notify users about the status of their orders. They give information such as confirmations of order, updates of order status, and information on tracking. These type of push notification are suitable for mobile banking app, e-commerce, food and drink app, etc.
Rich notifications from Android fall into four different categories: basic, image, progress, and list. Basic push notifications for more context include a title, icon, and message. These features are used for image notifications but also include an image preview.
There is also a progress bar for progress notifications and a list for list notifications. Within the notification itself, real action buttons enable people to respond; for example, someone can play a song or open the app that requires action.
Why are Push Notifications used?
Mobile app push notifications can give value to both business and end users. Customers can continue to receive useful real-time updates, and; On the other hand, companies can interact directly with the customers and encourage them to use the app through call-to-action messaging.
Push Notifications can significantly;
Promote offers

Increase Click-through rates

Improve customer satisfaction

Send transactional receipts immediately

Convert site visitors or potential app users to customers

Continue to drive customers to other marketing channels

Push notification enables users to keep up with the new updates, offers, and promotions.

Give the user control to enable them to decide to opt-in or opt-out.

Users can personalize what they see in terms of notifications through mobile settings and notification centres.

Mobile push notifications are much less messy than emails in terms of user interface and ease of use; they are fast to handle and manage.

They are easy, straightforward messages that only offer the necessary essential information, making it user-friendly and efficient.
History of Push Notifications
Apple first implemented app push notifications in 2009 by using the Apple Push Notification Service (APNs) to support push notifications on iOS devices. The APNs allows app developers for the transmission of information to macOS, watchOS, tvOS, and iOS device.
For quite some time, it was so hard for users to receive real-time information about new emails on their inboxes. Today, as a reasonable way of user communication, push notifications, which solved this problem, stand beside email.
The way we interact with smartphones has changed with push notifications, and it gives marketers a fantastic means of contacting interested clients; This is the issue addressed with Push notification. Subscribers would immediately receive messages now. Emails have always been read and answered to save time and money quickly, in real time.
People love this fantastic feature, and for the travelling businessman, it became a necessity. But this didn't go unnoticed. The valley was watching, and several intelligent people understood the significance of Push notification.
In 2010, Google successfully launched its very own version of the Android Device Messaging (C2DM) service called Google Cloud. In 2013, Google implemented rich notifications and action buttons to enable developers to integrate advanced features into an Android device push notification better.
With the implementation of fully interactive notifications in iOS 8 in 2014, Apple followed closely behind. These app push notifications enable individuals to take actions such as responding to messages and deleting emails from the lock screen directly. Then, Apple released the Apple Watch in 2015 and let the device to receive mobile app push notifications.
How Do Push Notifications Work?
Services such as Windows Notification service, Google's Firebase Cloud Messaging (FCM) and Apple's APNS are the core of how push notification works. To help illustrate how does push notification work exactly, let's take the FCM case, which allows both mobile and web-based applications to send active users notifications.
The following are the three crucial steps for implementing push notifications messages:
Subscribe A User to Push Messaging
Send A Push Message to The User's Device
Delivering The Push Message

#1 Subscribe A User to Push Messaging
The very first part of the process would be to "subscribe" a user. It requires two things; the user's approval to receive push messages, and the browser's "Push Subscription" (which contains all the user device information).
After a user Confirmed opt-in, you will also need to send the specific details of the "Push Subscription" to the server to save this subscription to the database and use it to send the user the push message.
#2 Send A Push Message to The User's Device
The push service should receive an API call, which might include what information to send, who to communicate as well as how to send out the message.
The API call usually made from the end of your server. A push service validates the push message after receiving a network request and forward it to the respective browser. Each web browser can choose any desired push service, as each push service expects the same API call.
#3 Delivering The Push Message
The push service will continue to keep your message on its server once you have sent a push message until -The phone comes online and the push service delivers the message.
Once the message gets delivered by a push service, the web browser receives it, decrypts and executes a push event in your service worker.
The push service automatically eliminates the message and will no longer be valid if it expires. And you can conduct any important background tasks such as making analytics calls, offline cache pages and displaying notifications within the push event of the service worker.
Benefits of Push Notifications
Push notifications also are a simple and effective way to get in touch with your audience. And why are mobile app push notifications so powerful and effective? Let's look at the benefits of push notifications your company can derive from mobile push notifications.
Increase Conversion Rates
The best way to improve conversion rates is through timely marketing messages via push notification since they can notify customers quickly and create a sense of urgency.
You can trigger instant purchases with mobile notifications. Send exciting and insightful messages to your subscribers and let them aware of your online shop limited-time offers or special discounts. Push notifications can continue to offer incredibly fast purchase with a single tap in addition to this information.
Identify and Target the Right Audience
Mobile app push notifications may request permission from a user to gain access to their precise location. If you get the user approval, you will have a great chance to customize the consumer experience with location-specific push notifications.
Based on their time zone, an app can immediately send deals directly applicable to users in a specific region depending on the country, state, or city of the target users.
Stimulate engagement with users
Push notifications can surely help you at many touchpoints to attract new customers and bring in more revenue. They also can undoubtedly help you send regular updates and constant reminders in real-time to have your audience to continue to engage with your brand regularly even if they are not aware of it.
You can also enjoy the benefits of push notifications by offering quick messages and useful, relevant details such as reward descriptions and special offers, stay in touch with your users in a non-intrusive manner. And also provide the best strategy of using new features or promotions to engage users.
Retain and Re-engage users
Several smartphone apps have many potential users downloading the app but not using it. Push notifications are an excellent opportunity to make these users active.
Sending so much more (high-value) push notifications can dramatically increase retention rates by 3 to 10 times, according to a study by Urban Airship.
In fact, the retention rates are much higher on average for subscribers who opt-in to mobile notifications. You can also give your subscribers with thoughtful reminders, customized offers, and breaking news through push notification messages.
If you have direct personal value show up in your cellphone notifications, you are more likely to retain users and enjoy the benefits of push notifications for the long term.
Track Metrics
Another great significant advantage of push notifications is that they help track user behaviour. Push notifications provide sophisticated analytics with data on delivery receipts, open times, open rates, and engagement.
You can gain valuable insights into user behaviour with push notifications, including interaction times and click-through rates to see how many messages seem to be more likely to get read. You can decide to launch advertising campaigns that work more closely with users based on their behaviour data.
Improve Customer Care Strategy
Push notifications can improve your customer satisfaction considerably. They are less burdensome than many other forms of customer engagement, and they give valuable information and effectively drive traffic and help users.
They enable users to keep up with the new updates, offers, and promotions. Push messages are a powerful tool for attracting users' attention. And try to make your push notifications useful and time-sensitive and maintain a personal and friendly tone.
Improve The Consistency of the Brand
In your marketing funnel, alerting customers about last-minute deals, coupons and special promotions is a valuable way to have new touchpoint. Push notifications shape an extra complementary marketing channel in which you can share additional value-added information of your brand.
Additionally, mobile app push notifications continue to provide strong recognition by enabling you to use your logos in messages. And people are far more likely to remember push notifications on time, thus dramatically increasing your brand's essential value.
Reduce Customer Journey Efforts
Push notification services can insert deep links to push messages that redirect users to a specific location in your app. The use of deep links is the best way to engage customers with your app, and it allows users to take the necessary action by using a powerful call to action.
How to Implement Push Notifications into Android & iOS Apps
There are four steps involved in how to implement push notifications into Android, iOS and other Apps
App Publisher registers with the push web notification service of the OS

The OS benefit provides the publisher with an Application Programming Interface (API)

The publisher then adds the SDK to the app. (code library specific to the OS ' Web Service Push Notification)

Lastly, the publisher uploads the application to the app store.
User Activation
User visits the app store of an OS, then download and install the application.

The user opens the app he/she just installed on a device. The OS ' Push Notification Web Service registers unique identifiers (IDs) for both the application and the device.

These particularly unique identifiers returned from the OS push notification service to the application, and also sent to the app publisher.

Finally, the registration elements are obtained and stored by the publisher, including the unique identifiers.
Sending
The publisher composes a message via a message composer user interface. Alternatively, an automated message is set up by the publisher to get sent through the API.

The publisher clearly defines the audience that would receive the push notifications.

The publisher finally decides whether or not the message should be sent quickly or scheduled.
Opting in
The push notifications iOS require a client to authorize an application to start sending iOS web push notifications, but Fire Operating Systems and Android do not request such permission for their push notification service. It is vital for iOS to persuade clients to opt-in for push notifications.
A more appropriate approach to the problem is to demonstrate the value of opting-in to potential customers, for example, an individually tailored welcome series at the very first opening and then allowing the customer to choose later.
Average web push notification rates for iOS range from 58% for Philanthropy Applications to 33% for recreation. The opt-in rates of Various high-performance applications across all verticals in the industry have more than 50%.
How Do Push Notifications Appear to Users?
You will automatically receive Push Notification from your subscribed website after you have opened the browser. Depending on your operating system, push notification will generally appear on your:
Android OS: Push notification will automatically appear on the Android OS notification tray.
iOS: Notifications usually appear on the home screen on iOS.
Strategy
A consistent retention approach using push notifications has been one of the best ways to convert your app from a one-tap wonder into a hit – that is how push notification works. A 2015 Reports shows that push notifications are boosting retention rates by a staggering 180 %.
Here are a few more tips about how to successfully use push notifications to help you get it right.
Requesting permissions
In essence, asking for permission to send push notifications gets your mobile foot in the door. Users approve a bundle of permission requests under Android's current permission system, which makes this issue especially true for iOS.
As said earlier, iOS ad agencies must communicate directly the value of sending notifications to ease any privacy concerns that users may have. Ask users to notify them about important updates that they really care about as part of a compelling overall onboard experience.
Push Types
It's great to send text notifications, but you can still take things to the next level. Today's technology enables you to use rich-media content in your message and includes images in a single tap for users to view.
Start turning the call-to-action to a decisive action using fully interactive push notifications that help encourage people to pay special attention to anything you have to say and help increase retention and active engagement.
Build A Strategy
Create a full list of different types of user behaviors that you would like to address, different push triggers, the final goal you set for each push notification, and more. The more the trigger you focus on is sharper and more tangible – the more likely phone users are going to respond.
For example, if your app provides users with the available option to sign up for various contests, include a trigger in your strategy that notifies users once the time to sign up is almost over and when the contest itself is over.
Clearly remember that your strategy needs to be agile and constructed to adapt to real-time outcomes, making this step a continuous effort.
A/B Testing
Like everything else, there is no such thing as "one size fits all." in the mobile marketing arena, several options for each of the parameters stated in your list should be continuously tested. And, as with everything else in mobile, to start to learn which method is a keeper, you should measure results.
This amount of effort never ends and therefore, should be part of your push notification strategy regularly.
Timing
Getting your app push notifications perfect timing can make a vast difference between annoyed and happy users. The very first thing you should do, of course, is to try to avoid bothering users when they are likely to be asleep or busy.
But it's more than that. The perfect time to communicate with users depends entirely on who is your target audience and what has always been about the notification.
Content
For fairly obvious reasons, remember that the purpose of push notifications is to sell a specific message, so try to keep your content short, which will include a clear call for action. Entertaining users with a catchy headline or joke is the next stage of the excellent notification content.
Last but not least – customization has always been part of the process, so send a personal message that will catch user attention.
Prioritizing
Separate more specific notifications from ones that are meant for all users (such as seasonal events) and decide to opt for the message that will most speak to the needs of the users. You can produce a seasonal updated version of your overall strategy if you cannot decide clearly.
Segmentation
If you are sincere about offering a customized experience for users, this is the starting point. Think about the type of audience you are trying to address when dividing your audience into different groups: segments may be based on age, gender, location, interests, and other personally identifiable information.
Taking this to the next level sometimes means considering the behavior of the user in question. With specific push notification, the ultimate goal you initially set to achieve has much to do with how your target audience interacts with the app and how often they use it.
Devathon Is the Answer
Thank you for reading this post. If you have decided to incorporate push notification into your business marketing strategy, Devathon is here to help you build a push notification that will be tailored to meet your audience needs.
We usually work with serious entrepreneurs, startup companies, and growing businesses to design, develop, and deploy mobile, web and wearable platform products to help their business and services thrive on the global platform.
Drop us an email at hello@devathon.com or visit our website to incorporate Mobile App Push Notifications