Are you trying to decide on the right payment gateway in India?
No worries, we got your back!
Making payments using digital payment gateways in India is on the rise, and with the introduction of the online shopping concept, online payment has become casual.
Over the past few years, the payment gateway industry has observed a remarkable change. Cashless payments have become a new trend and a substitute for millions of people in India.
It is estimated that the payment gateway market is expected to register a CAGR of 15% in the forecast period of 2018-2027. Approximately 250 million Indians use UPI for their day-to-day transactions, and UPI transaction volume increased by 35% in October 2022.
With the recent surge in online shopping, payment gateways play a key role in improving customer experience and making shopping faster & far better. But, with so many payment gateways available, which is the best?
To help you out, we have compiled a list of the 13 best Payment Gateways in India. We have covered all the features, cons, pros, and other insights so that you can decide the best.
Let's dive into your questions about what is a payment gateway? Is it safe to make a transaction using a payment gateway? And which are the best payment gateways in India?
Let's find the solution.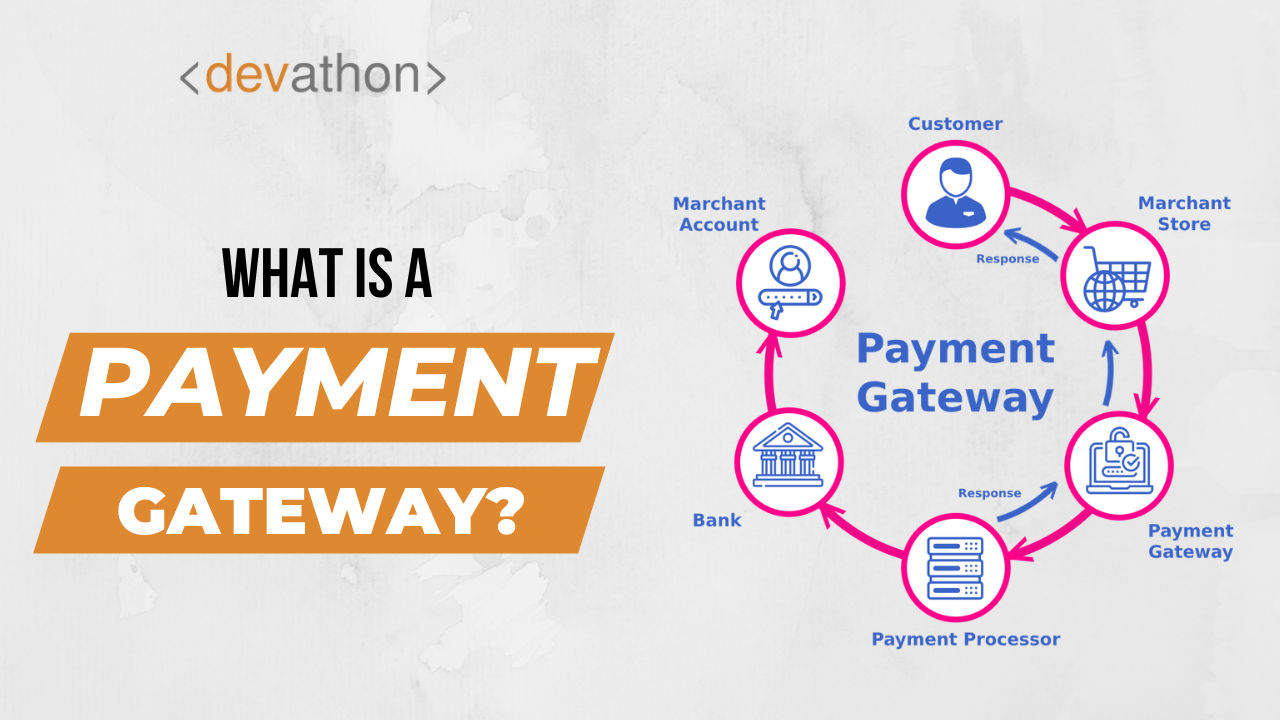 What is a Payment Gateway?
In simple terms, a tunnel connects a bank account with a platform to transfer your money. It authorizes you to conduct online payments using net banking, credit cards, debit cards, UPI, or money wallets.
A transaction processing technology acts as a bridge to capture, store, and transmit card information from the customer to the merchant. It protects customers' sensitive information and payment details, approving the transaction process between merchant and customer.
A Payment gateway plays a key role as a middleman to securely transfer your money from your bank account to the merchant's account.
How does a payment gateway in India work?
A payment gateway acts as a bridge in the payment processing system, whether you make a purchase online or in-store.
Here is how the payment gateway in India works-
Step 1: The customer places the order on your online store and proceeds to make online payments, or the customer uses credit/debit card details.
Step 2: Once the customer puts in details, the payment gateway shares encrypted details with the payment processor and then sends the transaction to the issuing bank via issue processors.
Step 3: The issuer approves or declines the transactions and sends the response to the gateway about verifying the details.
Step 4: Verified details are coded, and the merchant is notified whether transactions have been declined or approved.
Note: The payment gateways perform a process known as settlement. All your transactions are grouped, and the total amount is sent to your bank account at once. In addition, it records all your transactions and allows you to view them using the payment gateway report.
How to Choose the Best Payment Gateway in India?
Today, there are many numerous payment gateway options available in India. But which one is best for your business?
When choosing a payment gateway, there are a few things you need to consider, such as transaction fees, security, and ease of use. You'll also want to make sure that the payment gateway you choose is compatible with the shopping cart or payment processor you're using.
To help you make the best decision for your business, here are a few things to remember when choosing the best payment gateway.
Cost:Cost is the most important factor when choosing a payment gateway. The setup fees, transaction fees, and monthly fees. You need to check out the volume and value of your transactions when selecting the payment gateway.
Security:As the payment gateways store financial data, security is a major concern and should be a high priority. It should adhere to different security standards and make sure the provider is certified with PCI standards.
Integration Process and Support:Many payment gateways provide detailed information on integrating the gateway system with popular platforms like WooCommerce, Shopify, Big Commerce, and more. Select the gateway that makes it easy to integrate and beneficial for the customers to make the payment easily.
Easy Checkout on Multiple Devices:Almost 230 million users did online shopping in 2022, and these figures are estimated to increase by 2.5 times over the following decades. As an eCommerce owner, selecting a gateway platform that supports multiple devices and network types is important.
Multiple Features:Many payment gateways offer numerous functions and features depending on your business needs. For example, if your eCommerce offers services worldwide, the payment gateways should provide a global solution and accept several payment options in different countries.
Customer Support:Many payment gateways offer to limit their services to tickets or emails. In that case, you should follow the instructions provided by the support team to fix the problem if you feel more comfortable talking with the executive, so look for the option.
How to Get a Payment Gateway for my Website in India?
Here are a few things you need to know. First, you'll need to choose a payment gateway provider. There are many different providers, so it's important to research and find one that's right for your business.
Once you've chosen a provider, you'll need to set up an account and integrate the payment gateway onto your website. You can do this with just a few lines of code.
Once you've got everything set up, you'll be able to start accepting payments via your website. And that's it! These are the basics of how to get a payment gateway for your website in India.
Here are the steps-
Incorporate the business entity.
Open a business account with the proper legal documents and listings of your registered business.

Certificate of incorporation
PAN card of the business
Partnership deeds, in case of LLP
Memorandum of association & Articles of Association

Once your document gets opened, you can apply for the payment gateway service.
Best Payment Gateways in India
Here we are with the list of Best Payment Gateways in India-
Payment Gateways FAQ
What is a payment gateway & how it works?
A payment gateway is a service that helps businesses accept credit cards and other electronic payments. When a customer purchases your company, the payment gateway processes the payment and transfers the money to your company's bank account.

The payment gateway is a bridge between the customer and the merchant in the payment processing system. When the payment is made, it sends a confirmation to both the merchant and the customer. You can check out the above section for the detailed process.

How much does the payment gateway cost?
The transactional fees of each payment gateway are different. It takes a certain amount of charges per transaction based on payment mode. There is a fixed transactional charge and tax involved with each transaction.
What are the different types of payment gateways?
A payment gateway is an eCommerce service that authorizes and processes online business payments. There are 4 types of payment gateways-

Hosted.
Self-hosted.
API hosted.
Local Bank integrated.

Which is the best payment gateway in India?

Here is a list of the Top 10 payment gateway in India-
Cashfree
Razorpay
Instamojo
Paytm
Billdesk
SBIePay
ATOM
Instamojo
CCAvenue
PayUbiz
Which is the cheapest payment gateway in India?
There are many payment gateway providers in India, and the pricing can vary greatly. Small businesses need to find a payment gateway that is affordable and reliable.

We have compiled a list of India's best payment gateway providers, which can help you find the best one that suits your requirements.
Is there any best free payment gateway?
There are many best free payment gateway. However, here are some that stand out among the rest. Here are some best payment gateways we have figured out for you- Cashfree, Instamojo, Paytm, Razorpay, PayUbiz, Billdesk, and SBIePay.
These gateways are great choices for businesses of all sizes.
How to add a payment gateway to a website?
Adding a payment gateway to your website requires the help of your developer. It depends on the technology stack of the website. In most cases, you can add it to your website using a popular CMS. The other option is to use APIs to integrate it into your website.
What are payment gateway charges in India?
When a consumer purchases goods or services and makes an online payment, the merchant must pay charges for each transaction. The fee is calculated in percentage and varies depending on the payment gateways. They include-
Initial setup fees-
A one-time transaction fee is assessed to connect with the payment gateway. It depends upon the payment gateway you choose.
Annual maintenance fees-
A recurring fee is paid to the payment gateway provider annually to cover operating expenses, security, and maintenance charges.
Transaction charges-
Transaction charges are paid per transaction and calculated as a percentage of the transaction amount. Depending on the payment mode and payment gateway provider, it can be between 1% to 5%.