Ecommerce is booming in India, and so are Digital payments, isn't it?
Despite the pandemic, or maybe, because of it, more eCommerce stores are popping up.
Whatever the situation, the growing eCommerce industry needs an efficient payment system. With the Increasing digital payment trends, the payment gateway solution has quickly become a crucial tool in the Indian market.
But with so many payment gateways available, you've probably come across Cashfree.
The question is, what makes Cashfree different from other payment gateways? Let's start with some basics first.
What is Cashfree payment Gateway?
Founded in 2015 by Akash Sinha and Reeju Dutta as a payment gateway, the founders decided to make it a dedicated bulk payout solution for businesses in India later in mid-2016.
With 3 lakhs+ merchants connected with the Cashfree payments solution and 40 billion+ U.S. Dollars processed annually, it is one of India's most trusted payment gateways.
But what makes it popular is offering the lowest TDR in India.
Cashfree payment gateway is a user-friendly Indian payment gateway and API payment platform that offers a wide range of features and services that make it an attractive option for businesses. It provides solutions for online payments and cash-on-delivery payments designed for companies based in India.
It is developer friendly and can integrate with any website and other website-building platforms like Shopify, WooCommerce, Magento, Wix, WordPress, and more.
In addition, international payment support helps businesses to extend their reach to customers abroad by supporting 30+ foreign currencies.
This article shows cashfree payment gateway reviews on the pricing, charges, features, and FAQs. Buckle up; it is going to be an in-depth read!
Which payment options does the Cashfree payment gateway support?
In a fast-paced and modern world, businesses need to be able to accept payments in multiple ways.
Access to multiple payment modes benefits both the merchant and the buyer because it provides flexibility and convenience.
For the merchant, it allows them to accept payments in the most convenient form for the buyer. On the other hand, it allows customers to pay in the most convenient form. This flexibility and convenience are why access to multiple payment modes is so beneficial.
This gives customers the convenience they crave and helps businesses tap into new markets. It helps increase customer satisfaction, boost sales, help run payments smoothly, and increase the rate of successful business transactions.
Cashfree offers 120+ payment options for customers in India and abroad, allowing transactions in 30+ currencies. The payment modes include Credit and Debit cards, Net Banking (65+ Indian Banks), Paytm, and other wallets, UPI via BHIM, Google pay, EMI options, and Buy Now Pay Later.
In addition, it allows businesses to collect payments for subscriptions via links or API, UPI Autopay, and E-mandate making it a convenient option for Indians across the country.
The upper limit transaction for the Cashfree payment gateway is 1 lakh INR which can be modified in the dashboard under 'Payment Methods.'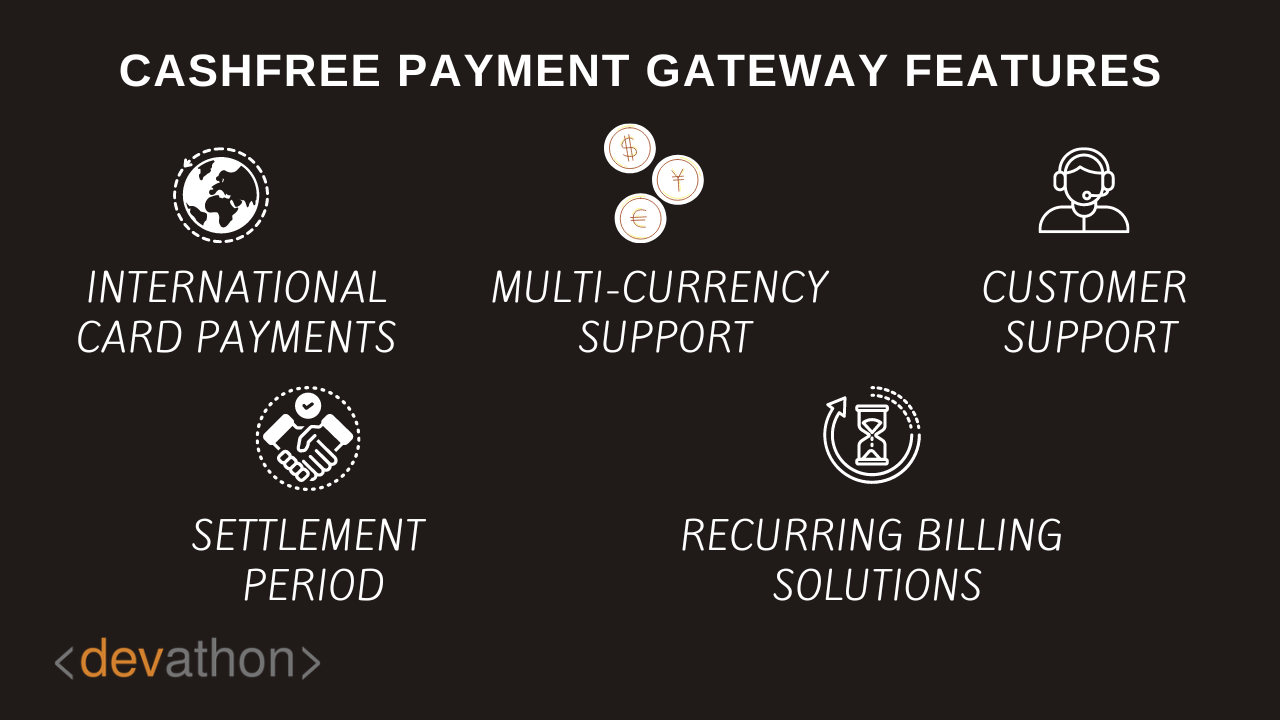 Cashfree payment gateway features
Cashfree Payment Gateway is aleading online payment service offering multiple features for customers and merchants. Some of the important features include the following-
Accepting Payments using International Cards
Accepting payment using International cards allows businesses to expand their reach to a global audience. It also helps build customer trust, as they know they can use their preferred payment method.

Additionally, it can help to increase conversion rates, as customers are more likely to complete a purchase if they can pay with their preferred method.

Cashfree payment gateway allows accepting payments through International cards using Visa, Mastercard, Paypal, Paytm, Diners Club, and American Express.

Multi-Currency Support
The payment gateways provide customers with a seamless and secure checkout process. Regarding cross-border sales, payment gateways play a key role in helping merchants process online transactions with efficiency and good user experience.

Merchants selling across the globe need to choose the payment gateway carefully. The multicurrency feature allows the merchant to accept and make payments through an online portal with currency flexibility.

Cashfree payment gateway allows international transactions in 30+ currencies, including USD, GBP, EUR, AED, CAD, and many more.

Recurring Billing Solutions
Recurring billing is the automatic, regular billing process that automates the payment collecting process once customers signups for a subscription service, like SaaS products or an eCommerce service.

It allows merchants to draw funds from their customer's accounts regularly for their purchases and services they receive regularly. The amount is transferred from the customer's account to the merchant's account, and they are issued an invoice for the same. It ensures an ongoing long-term relationship between customer and merchant instead of a one-time purchase.

Cashfree payment gateway allows Subscription-based payments using cards (Visa, Mastercard), E-mandate, UPI Autopay, and physical NACH.

Settlement Period
Payment gateways typically have a settlement period of between 1-3 business days. However, this can vary depending on the gateway provider and the country where the payment was made.
The settlement period is important because it ensures that all transactions are processed securely and accurately. It also allows merchants to protect themselves from fraudulent activity by giving them time to verify that the payments they receive are legitimate.
Cashfree payment gateway has a settlement period of T+2 days.

In addition, it offers an Instant Settlement Cycle of 15 minutes, On-demand Instant settlement, and Same-day settlement options to reconcile all your payments, even on bank holidays, instantly.

Customer Support
Payment gateways should be designed with robust customer support to ensure that customers can access the assistance they need quickly and easily.
This could include a customer service line, a chatbot, an FAQ section, or any other support that makes it easy for customers to get the answers they need.
Additionally, payment gateways should have knowledgeable customer service representatives that can provide personalized assistance and troubleshooting for customers. By providing excellent customer support, payment gateways can ensure that customers have a smooth and pleasant experience when using their services.
Cashfree payment gateway offers online customer care through the merchant dashboard. It allows customers to submit tickets for any issues, real-time online chat service, an email, and a dedicated relationship manager to solve queries.
The premium services offer dedicated account managers, priority business support with an assured response time of 30 minutes, and 20% faster resolution to dispute management. Add a few lines around readymade plugins for shopping websites, easy integration as a part of features.
Cashfree payment gateway pricing and charges
Cashfree offers competitive pricing and charges for their payment gateways, with a zero setup fee, minimal transaction fees, and no additional maintenance or hidden fees. It also offers the lowest TDR.
Cashfree payment gateway charges offer premium services with an Annual Maintenance charge of Rs. 4,999/- per year.
Here is a list of Cashfree payment gateway pricing and charges-
Transaction fees of 1.90% for Visa, MasterCard, Maestro, ICICI, AmazonPay, Airtel Money, Jio Money, Phonepe, 70+ Net Banking
Transaction fees of 0% for UPI and RuPay.
Transaction fees of 1.5% for Debit Card EMI – HDFC
Transaction fees of 2.5% + TDR for Credit Card EMI – HDFC, Kotak, ICICI, SBI, Bank of Baroda, Standard Chartered, Axis, and others.
Transaction fees of 1.9% for Cardless EMI- ICICI bank, Kotak bank, IDFC First bank, HDFC, Federal bank, Zest Money, and KreditBee.
Transaction fees of 2.2% for the Pay later option – lazy pay, OlaMoney postpaid, ePayLater, HDFC, Kotak, Simpl, Freecharge PayLater, Zest Money pay later.
Transaction fees of 3.5% + Rs.7 for International Cards- Visa, Mastercard.
Transaction fees of 2.95% for Diners Club and American Express.

Let us compare the pricing of Top payment gateways in India.

Payment Gateways
Cashfree
Razorpay
Paytm
PayU
InstaMojo
(Free Version)
PayPal
Annual
Maintenance
Charge
Zero
Zero
Zero
Zero
Zero
Debit Cards
1.9%
2%
0.90%
2%
5% + Rs. 3
Zero
Credit Cards
1.9%
2%
1.99%
2%
5% + Rs.3
International
Credit Cards
3.5% + Rs. 7
3%
2.99%
3%
Available
on
Request
4.4% +
USD 0.30 +
Fixed Fee
American
Express and
Diners Club
2.95%
3%
2.99%
3%
Available
on
Request
4.4% +
USD 0.30 +
Fixed Fee
Pay later
2.2%
2%
–
–
–
–

Cashfree payment gateway offers customized pricing for customers with high volumes or microtransactions. Please contact their sales department for more information on customized pricing and if it is right for you.

Cashfree payment gateway integration options

Online payment gateway aims to help eCommerce companies smoothly accept digital payments from their customers.

Payment gateways should strive to provide easy integration so businesses can quickly and easily set up their payment system. Integration should be user-friendly and include extensive documentation and support to integrate with popular eCommerce platforms like WooCommerce, Shopify, Magento, WordPress, and more.

In addition, the payment gateway system should not botch up the website's UX with a slow payment process.

Cashfree payment gateway offers easy and seamless multiple integration APIs for website integration, mobile SDK integration, and predefined plugins for some major eCommerce platforms like Shopify, Magento, WooCommerce, Opencart, WHMCS, and PrestaShop.

FAQs

Does Cashfree accept international payments?
Yes, the Cashfree payment gateway accepts International payments using credit cards, debit cards, and other options with transactional fees of 3.5% + Rs.7 per transaction.
How does Cashfree process settlements?
The Cashfree payment gateway has a standard settlement period of T+2 days, where T is the date of the transaction. But it also offers various settlement options like Instant settlement, same-day settlement, and On-demand instant settlement.
How much does Cashfree cost?
Cashfree payment gateway transaction charge depends upon the payment mode of your customer. Check out the pricing page for more information.
Is a Cashfree payment gateway free?
The Cashfree payment gateway is a free payment gateway that has zero maintenance and setup charges. But it also provides premium support services at an Annual Maintenance Cost of Rs. 4,999 per year.
How does cashfree payout work?
Cashfree payment gateway works seamlessly and efficiently to process merchant's payments. Here are the steps involved-

The customer enters the card details on the merchant's site. Payment details are encrypted and tokenized by the payment gateway.
The payment gateway forwards the information to the Acquiring bank, and the acquiring bank forwards the information to the card networks.
The issuing bank authorizes the payment, checks fund availability, and responds positively to the card network (by checking the fund availability).
The card company sends the message to the Acquiring bank and forwards the payment status to the merchant.
As soon as the payment has been approved, the Acquiring bank requests funds from the Issuing bank. Upon receiving the funds, the payment aggregator settles them with the merchant.

How to contact cashfree customer care?
Cashfree payment gateway offers different ways to contact customer care to get help. It allows merchants to contact them from the dashboard, use a real-time live chat option, create a support ticket, and send it by email. If you have premium support, you also get a dedicated relations manager to solve the queries.
What documents do I need to submit to get a payment gateway?
There are different documents needed depending upon the nature of your firm. For example, if you have proprietorship firm documents required are-

Business Address Proof
Cheque or Bank Account Statement
Business registration Proof
The Income Tax Return File
IRDA License
Permission from Local Government Authority
Business PAN
Business Owner PAN.

To check full details, visit here.